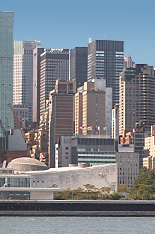 William C. Burton As Author: Burton's Legal Thesaurus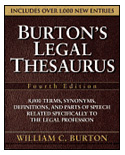 In 1980 Mr. Burton created the first and only legal thesaurus in the history of the legal profession. Justice William O. Douglas wrote the introduction to the book after he determined it was unique and needed by lawyers. Since that time judges, partners, and professors have all used the book to assist them as they draft briefs, documents and even correspondence.
Reviews and Promotional Statements about the fourth edition, published this year:
For more than 25 years, Burton's Legal Thesaurus has been the one-of-a-kind reference tool in a field where the precision and accuracy of language is vitally important. The latest edition of this classic resource adds 1,000 new words, terms, and expressions to the roughly 7,000 already present, including non technical words regularly used by attorneys.
The first edition of his Legal Thesaurus was named one of the "Most Creative and Innovative Projects of the Year" from the Association of American Publishers.
"Prepared by lawyers, comprehensive, up-to-date, easy to use."- American Bar Association Journal
"A tool to strengthen the lawyer's vocabulary and improve the precision of legal writing...excellent quality and painstaking attention to detail ...will doubtless become a standard reference." - Maryland Bar Journal
"The Legal Thesaurus...might be to Black's what Roget's is to Webster's...Given the popularity of plain language laws, the Legal Thesaurus could be just the book to own." - United States Law Week
"With the emphasis today on good legal writing, plain English, and consumer communications, there is a need for volumes to help lawyers to be precise with their language...The legal profession should find this volume valuable in using the exact word to convey the meaning intended." - New York State Bar Journal
"In the legal community absolute understanding is the measure of perfection...It is through the use of such a tool as the Legal Thesaurus that one may find the precise term to fit the nuances of a particular situation."
-William O. Douglas Justice, U.S. Supreme Court, 1939-1975